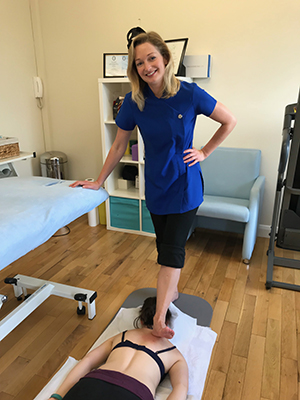 Cara is a fully qualified HPCP registered, Chartered Physiotherapist.  These regulatory bodies ensure that she adheres to a strict code of practice and ethics. Cara has now been working privately for over 11 years specialising in spinal conditions and joint and sports injuries.
Cara has been involved in the rehabilitation of high level athletes and those who demand extreme fitness for work. She has worked with highly competitive swimmers, runners, cyclists, dancers and other sporting athletes.
Cara has also focused on specialising in the treatment of back pain has trained with Sarah Key, the author and founder of the "Sarah Key technique" qualifying in all levels of the "Back Master Classes". In 2017, she also assisted Sarah Key in the teaching of these techniques to physiotherapists in Manchester.
This unique technique involves using the foot to manipulate the spine, delivering an effective, deep mobilising to the spine. Previous clients have commented that using the heel 'gets right to the core of the problem'.
… a personal note from Cara
"I have always been an active person, and love a touch of adrenaline! In 2012 I summitted Mont Kilimanjaro, this experience taught me a lot about my own strengths both physically and mentally. It also gave me the courage to complete- my one and only – marathon in 2016. I regularly participate in Parkrun's and enjoy being outside as much as possible. I am a qualified advanced Scuba Diver and love to be by the water. As a teenager I was heavily involved in equine Tet-Triathlon, representing Northern Ireland in competitions throughout the UK and Ireland."