Class Times
Our classes are running in studio and also available to join via zoom or pre- recorded link. We have a protocol in place where temperatures are checked at the start of class, own equipment is to be brought and masks worn entering and leaving building but not during the class. We also have a UV air ioniser to purify the air.
Classes are mixed level meaning each level is accommodated for within each class. A beginner will work at level 1 where an intermediate may progress to level 2 or 3 of the same exercise. Joint and medical issues can be accommodated for and will assessed at during your 1:1.
Class times are:
Monday 5.45pm
Tuesday  8pm
Wednesday 10am & 7pm
Thursday 9.45am, 11am & 8pm
Friday 10am
If you would like to join our classes please contact reception on 02891 871701 for further information.
"Prevention is better than cure"
These classes are run under the supervision of Chartered Physiotherapists Cara Chandler, Leighton Bradgate and Sports therapist Jillian Ferguson. All therapists are APPI trained Pilates instructors. APPI Pilates which is a modified form of Pilates, designed to keep your spine safe whilst challenging those core muscles and working on your flexibility. APPI courses cover specific training for runners, cyclists, pre and those suffering from low back pain. Ultimately each class can be adapted for whatever your needs are.
Jillian also runs our Prenatal Pilates class.
Why choose to do Pilates at Physio Plus instead of a gym?
At Physio Plus you are guaranteed your Instructor is already a human movement specialist. A 1:1 assessment is done prior to starting our classes to teach you to the essential principles of Pilates often neglected in commercial gyms. We will ask about your medical history so that we can tailor the exercises within the classes to your needs.
We have a maximum of 10 in a class ensuring individual attention throughout the class, and hands on correction to make sure you get the most out of your exercise and prevent injury. We hope that this gives you a confidence when starting the class and if any discomfort should arise in a class, you can be sure you are in safe hands.
Where did Pilates come from?
Initially adopted by professional dancers in the US as an effective form of recovery after injury, Pilates has steadily grown in popularity around the world, and includes celebrity fans such as, Pippa Middleton, Tiger Woods, Ryan Giggs, Madonna and Jennifer Aniston.
Why is Pilates good for Back Pain?
Medical experts have provided substantial evidence on the importance of strong core muscles (Pelvic floor, Transverse abdominals and multifidus ) in the role of lumbar stability, preventing low back pain and reducing the recurrence of low back pain – figures have shown up to a 50% decrease in reoccurrence of LBP!
Pilates offers patients a unique method of exercise that focuses on these muscles,  working on correct movement, core stabilisation and postural correction.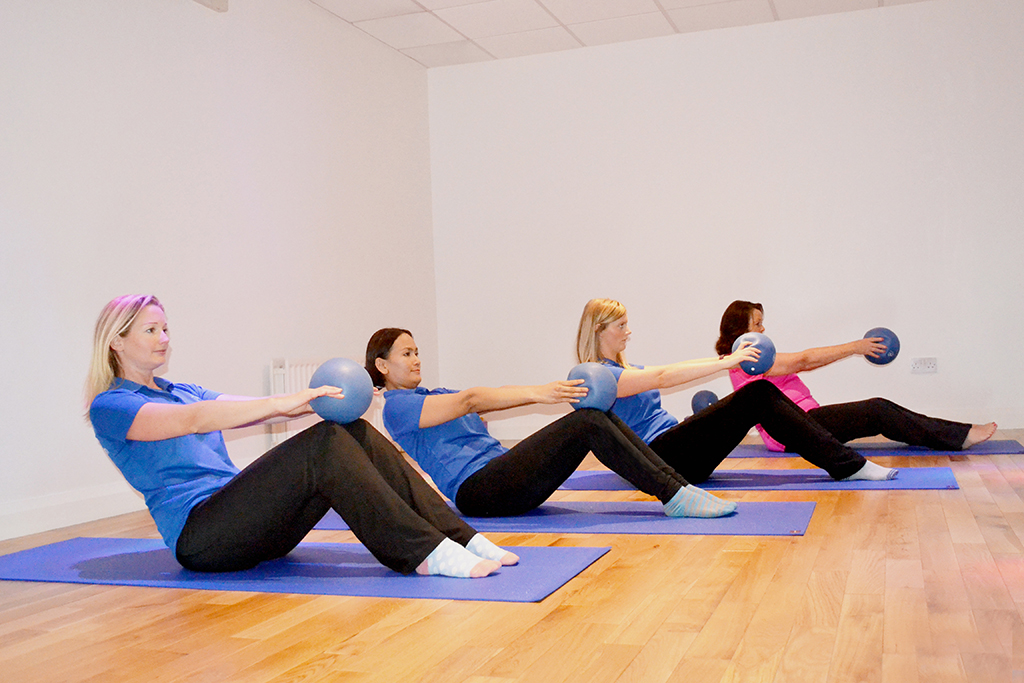 Who can do Pilates?
Pilates at Physio Plus is suitable for those 15-75, it is particularly beneficially for those wanting to improve their posture, core strength, and those who have suffered from sports injuries, back pain, arthritis, and before and after pregnancy.
Within the class, exercises can be adapted to each individual should you wish take it easy or work hard at toning and strengthening. Some may choose to progress to intermediate level with the addition of equipment, and the sky is the limit to the challenge that can be sought.
Do men do Pilates too?
Yes. Low back pain is as much a problem to men as it is to women and so at Physio Plus Pilates we never restricted classes due to gender. Most of our classes have a mixture of men and women.
I have recently had a baby, will Pilates benefit me and when can I start?
Provided the birth went smoothly and there are no underlying medical problems, most women can begin Pilates at 6 weeks post partum. Pilates will assist in rebuilding strength and confidence after the birth. It tones the abdominals' and the pelvic floor, not only aiding the return of your figure but helping against incontinence problems both now and in the future.
he classes will encompass a series of postures, meditation, breathing exercises. But every class is different and that is the fun of it! Each class is personal and suited to individual strengths and limitations, to accommodate a mixed ability.
At Physio Plus, yoga classes are taught based upon a classical approach together with a contemporary method. A focus on structural alignment is key to yoga and facilitates better performance in a wide range of sports. But most importantly, it is how great it makes you feel! All classes are booked in blocks of 6 weeks, a trial class may be arranged (if availability allows) by contacting reception on 02891871701
Pregnancy Pilates
Pilates during pregnancy is a great way to enhance your posture, build strength, maintain your wellbeing and ensure you are in the best condition to welcome your precious new arrival. At Physio Plus NI our APPI trained teachers are on hand to guide through a safe and effective program. Exercise during pregnancy requires some adaptation to position, load, control and time. Our team have all undergone specific training to be educated on what is required for you to achieve your best results, in a safe and effective way.
---
Pilates- it did not take long to experience the benefits of reduced pain and greater mobility and under the instructors watchful eye (they miss nothing) there was steady improvement in both flexibility and strength. They know the limitations of each of their clients in the class and have the knack of encouraging each to improve within their own particular limitations.