Pilates Classes @ Physio Plus

"Prevention is better than cure"
These classes are run under the supervision of Chartered Physiotherapists Cara Chandler, Leighton Bradgate and James McGaughey. Cara is an APPI trained Pilates instructor classes and has been teaching locally in Comber and Killinchy for the last 4 years. Cara has completed further training in anti and post natal Pilates and Pilates for Golf. Leighton and James also trained with APPI Pilates which is a modified form of Pilates, designed to keep your spine safe whilst challenging those core muscles and working on your flexibility.
Pilates classes
Classes run in blocks of 6 weeks costing £60
Matwork classes
DAY
TIME
LOCATION
Monday
10:00

14:15

16:30

17:35

17:45

18:45

Physio Plus

Physio Plus

Physio Plus Studios

Physio Plus Studios

Physio Plus

Physio Plus Studios

Tuesday
18:50

20:00

Physio Plus Studios

Physio Plus Studios

Wednesday
10:00

17:30

18:35

Physio Plus

Physio Plus

Physio Plus

Thursday
11:00

18:00

19:15

Physio Plus

Physio Plus

Physio Plus

Friday
10:00
Physio Plus
What is Pilates?
Pilates is a non-impact method of training that focuses on stretching and strengthening the whole body to improve balance, muscle-strength, flexibility and posture. It was created by German-born Joseph Pilates in the early 1900s and incorporates elements of yoga, martial arts and Western forms of exercise.
The benefits of Pilates include: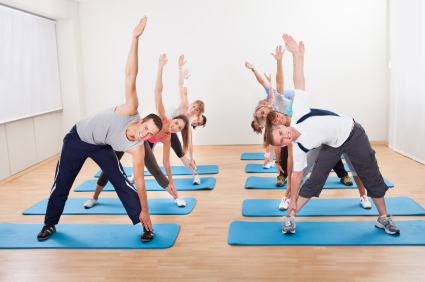 + Improved core stability and strength
+ Relaxation and improved sense of well-being
+ Greater Flexibility
+ Better balance
+ Toned body
+ Improved posture
+ Increase health of spinal discs
Where did Pilates come from?
Initially adopted by professional dancers in the US as an effective form of recovery after injury, Pilates has steadily grown in popularity around the world, and includes celebrity fans such as, Pippa Middleton, Tiger Woods, Ryan Giggs, Madonna and Jennifer Aniston.
Why is Pilates good for Back Pain?
Medical experts have provided substantial evidence on the importance of strong core muscles (Pelvic floor, TrA and multifidus )in the role of lumbar stability, preventing low back pain and reducing the recurrence of low back pain – figures have shown up to a 50% decrease in reoccurrence of LBP!
Pilates offers  patients a unique method of exercise that focuses on these muscles,  working on correct movement, core stabilisation and postural correction.
Who can do Pilates?
Pilates suits all ages and fitness levels and is particularly beneficially for those with back pain, poor postures, neurological conditions, , sports injuries, arthritis, stress related illness and before and after pregnancy.
Within the class, exercises can be adapted to each individual should you wish take it easy or work hard at toning and strengthening. Some may choose to progress to intermediate level with the addition of equipment, and the sky is the limit to the challenge that can be sought.
Do men do Pilates too?
Yes. Low back pain is as much a problem to men as it is to women and so at Physio Plus Pilates we never restricted classes due to gender. Most of our classes have a mixture of men and women.
Why choose a Chartered Physio as your Pilates instructor?
Due to the nature of a Physiotherapy degree course, your Instructor is already a human movement specialist. A 1:1 assessment is done prior to starting our classes to introduce you to the basic principles of Pilates and to get a medical history so that we can tailor the exercises within the classes to your needs.
We hope that this gives you a confidence when starting to the class and if any discomfort should arise in a class, you can be sure you are in safe hands.
I have recently had a baby, will Pilates benefit me and when can I start?
Provided the birth went smoothly and there are no underlying medical problems, most women can begin Pilates at 6 weeks post partum. Pilates will assist in rebuilding strength and confidence after the birth. It tones the abdominal's and the pelvic floor, not only aiding the return of your figure but helping against incontinence problems both now and in the future.
SaveSave