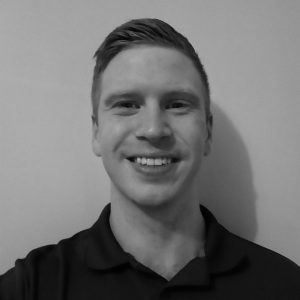 Reuben graduated with an honors degree in physiotherapy from the University of Ulster in 2014. He has since been working within the National Health Service, rotating through a number of clinical areas and has gathered a wide range of knowledge and skills including the management of orthopedic patients and those suffering from chronic or persistent pain. He has recently been successful in obtaining a clinical specialist post as a Musculoskeletal physiotherapist. Reuben has joined our team in 2018.
Reuben firmly believes that no person is beyond help and that a talented physiotherapist will treat the whole person, aiming to get an outcome that is pleasing to them.  He has completed several post-graduate courses including managing musculoskeletal injuries in children and adolescents and exercise in the rehabilitation of sporting injuries.
Reuben is a great believer in exercise and encouraging positive interactions with movement. Having qualified initially as a personal trainer and worked in a commercial gym while pursuing his degree, he always seeks the highest possible outcomes for his clients – be that getting back on the pitch or just simple every day tasks.
… a personal note from Reuben
"I believe that I am a people person – I love my job because it allows me to work first and foremost with people – I get to find out what they love to do and begin to fix the problems that stand in the way of that.  I love to use the knowledge and skills that I have acquired to get to the root of these issues and through education and good management, see patients get back to doing what they love most!"