Podiatrist: Caroline McWilliams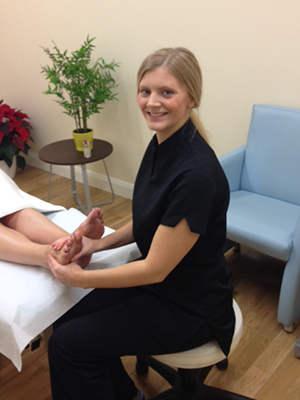 Caroline is a HCPC registered Podiatrist (BSC Hons) with membership to the Society of Chiropodists and Podiatrists. She has over 5 years post graduate experience. She first began her career in the UK private sector and  NHS, where she worked alongside a skilled team of 'high risk foot specialists', including vascular and orthopaedic surgeons. As a result she has a high understanding and experience dealing with acute and chronic issues associated with the High Risk foot.
 She has just returned from New Zealand where she worked within a Sports Medicine clinic for the last two years. While in New Zealand she has developed a great passion, knowledge and experience of sports injury diagnosis, prevention and rehabilitation.
Her role as a podiatrist within Physio plus  is vast and varied. She treats all areas of podiatry including, general footcare, nail surgery, biomechanical assessments and orthotic modifications. Caroline thrives to ensure each patient receives an excellent standard of care. She works hard to help patients overcome  ailments of the lower limb, and creates treatment plans which are adjusted for the individuals needs. Her overall aim is to ensure her patient is happy, comfortable and pain free. She continues her professional Development and learning to ensure she is always able to offer the most up to date treatment plan possible, ensuring best results.
A personal note from Caroline:
My main aim as a podiatrist is to help people stay pain free so they can lead a happy and healthy lifestyle. Outside podiatry I have a keen interest in travelling, and enjoy keeping fit by going on long walks, running and spending time outdoors. I like to spend my spare time baking or cooking  with family and friends and enjoy visiting the cinema, restaurants, the theatre and places of interest and culture.
Foot care practicioner: Lorraine Bryan
Lorraine is a fully qualified Foot Health Practitioner, holding a S.A.C. Diploma FHPT/FHPP  and working as a chiropodist within Physio Plus. She treats corn, callus', hard skin and toenails. Having always had a passion for her practice, Lorraine has always liked helping people keep their feet healthy and enjoys working with both new and regular clients."
A personal note from Lorraine
"I have been trained in Alternative Health foot care for many years now, practicing massage, reflexology and other areas of chiropody.  In my spare time I walk and enjoy eating out and spending time with my family and friends."