Physiotherapist: Cara Chandler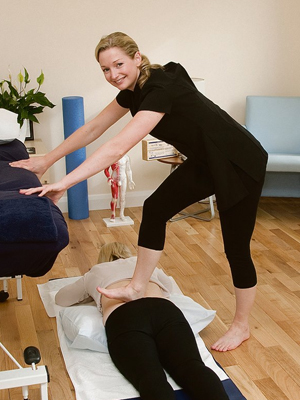 Cara is a fully qualified HPCP registered, Chartered Physiotherapist These regulatory bodies ensure that she adheres to a strict code of practice and ethics. Cara has now been working privately for over 11 years specialising in spinal conditions and joint and sports injuries.
Cara has been involved in the rehabilitation of high level athletes and those who demand extreme fitness for work. She has worked with highly competitive swimmers, runners, cyclists, dancers and other sporting athletes.
Cara has also focused on specialising in the treatment of back pain has trained with Sarah Key, the author and founder of the "Sarah Key technique" qualifying in all levels of the "Back Master Classes". In 2017, she also assisted Sarah Key in the teaching of these techniques to physiotherapists in Manchester.
This unique technique involves using the foot to manipulate the spine, delivering an effective, deep mobilising to the spine. Previous clients have commented that using the heel 'gets right to the core of the problem'.
On a personal note from Cara
"Physiotherapy is my passion, I truly enjoy figuring out the source of peoples injury or pain and helping people on their path to recovery. I believe in empowering a patient and giving them as many tools as possible to rehabilitate their injury and take back control of their lives. Whether this be a crippling back pain or a sports injury that prevents play. Everyones condition is different and that is why I continue to develop my skills as a Physio covering as broad a treatment range as possible so I can intertwine different techniques to tailor treatment to each individual need.
Opening Physio Plus in the Square Comber has been a dream in the making for many years, I look forward seeing the clinic grow into a true multidisciplinary team where many aspects of health care are catered for in an effective caring environment.
I have always been active, and love a touch of adrenaline! I recently summitted Mont Kilimanjaro and qualified as an advanced Scuba Diver and completed my first marathon. As a teenager I was heavily involved in equine Tet-Triathlon representing Northern Ireland in events throughout the UK and Ireland and have competed in numerous horse riding competitions."
Physiotherapist: Leighton Bradgate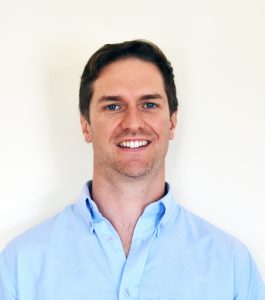 Leighton graduated from the University of Sydney in 2004 with a BSc degree in Physiotherapy.  He has been working as a physiotherapist for 13 years both here in Northern Ireland and also in Australia.
Leighton believes the key to successful physiotherapy intervention is an accurate diagnosis; this process involves identifying the underlying cause(s) of the injury and the formulation of a treatment plan focusing on correcting the same.  He instills an holistic and active approach to his intervention combining a variety of treatment methods including education/advice, manual therapy, acupuncture, taping and functional rehabilitation.
Leighton has attended a variety of postgraduate courses and has completed a PG Diploma in Musculoskeletal Medicine and a PG Certificate in Advanced Manual Practice.  He is acupuncture and
pilates trained and is an associate member of the UK Strength and Conditioning Association.   Leighton has also worked as a team physiotherapist across a number of sports, including rugby league,
rugby union, soccer, gaelic games, athletics and triathlon. This has allowed him to develop an extensive knowledge and skills base in the management of a variety of musculoskeletal conditions
On a personal note from Leighton
I have a passion for patient care. At the forefront of this is a patient centred approach assessing the whole aspect of the person.
I use my extensive experience in the relationship between poor movement and injury to get to the core of your issues and keep you moving pain free.
An active approach to injury management is central to this and most patients will leave with a program of core exercises to work on to correct weakness and poor movement patterns which have led to their injury.
It takes high levels of clinical reasoning to be able to achieve this. As such I am forever determined to bend over backwards to improve my skills base and knowledge through ongoing professional development so that my patients receive the latest evidence based best practice.
In my spare time I enjoy running around after my daughters, cycling, running, swimming and going to the gym. I have completed both my 1st Ironman triathlon in 2013 and this year, the Mizen to Mallon cycle challenge.
Physiotherapist: James McGaughey
Having graduated from Ulster University Jordanstown James was selected to join Physio Plus under a scholarship scheme. James is HCPC registered and a member of the Chartered Society of Physiotherapists (CSP) which ensures he remains up-to-date with the latest in evidence-based practice so that he can deliver the best treatment, allowing for the best outcomes for his clients, in a safe and effective manner.
James is an enthusiastic and motivated physiotherapist whose belief in lifelong learning is evident through his continuous desire to widen and develop his skill-sets in order to deliver treatments to the best of his ability. Having completed his Pilates matwork course, James will instruct several of our Pilates classes.
On a personal note from James
I am passionate about improving the lives of others, whether this be reducing  pain, improving their confidence or using a holistic approach to physiotherapy practice and improving the overall quality of life for that individual. There is no better feeling than sending someone out the door with a smile on their face and a skip in their step!
I also have regularly attended the gym since I was 15 and over the past few years, have been practicing Olympic weightlifting and powerlifting- an area of which of which I plan to compete in in the near future. Both of these strength sports have allowed me to explore injury prevention techniques, as well as improve my understanding of sports performance and human biomechanics, giving me first hand experience and a more holistic understanding of various aspects of physiotherapy treatment and management.